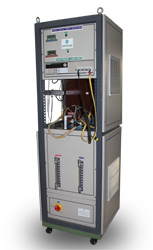 Dura-FCT™M
Manual Fuel Cell Test Station for testing as evaluation of fuel cell electrode.
We have fuel cell test station which is operated manually using rotometer.
Dura-FCT™A
Automated Fuel Cell Test Station. Dura-FCT™A is completely integrated
automatic software controlled system. Our system is designed to function
with very little user intervention in order to perform long term testing of stacks.
Dura-FCT™A is available from 250 watts to 5000 watts.
Direct Methanol Fuel Cell (DMFC) testing option is also available.
Sainergy 2014 © All rights reserved